Mobile Dog Grooming Trailer Special Offer!

Mobile Trailer Solutions Offering Free Pet Grooming Website Service!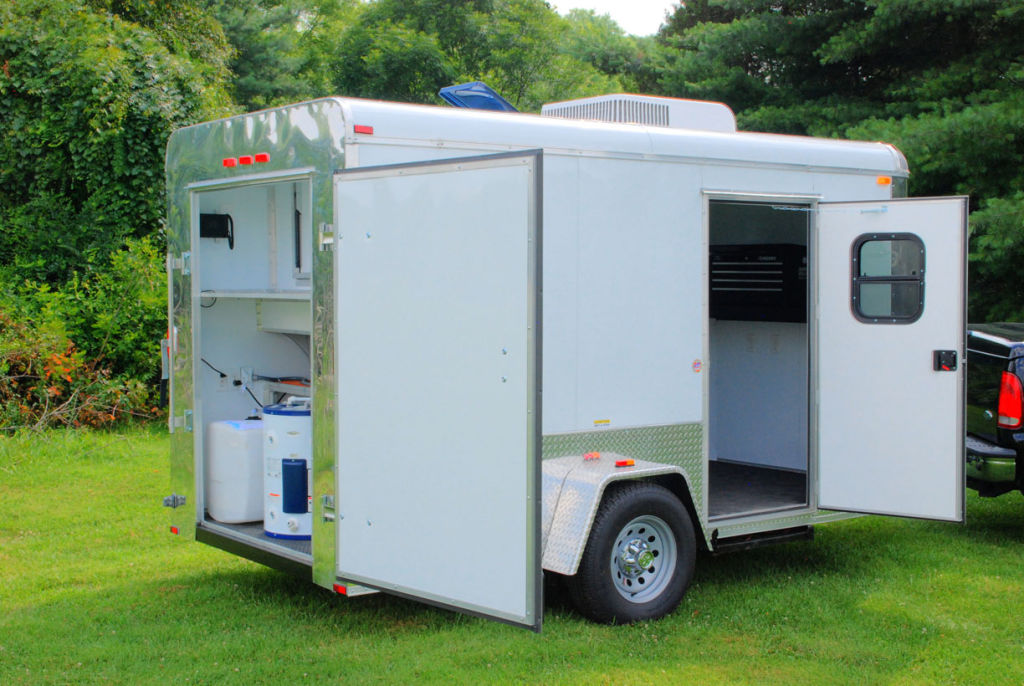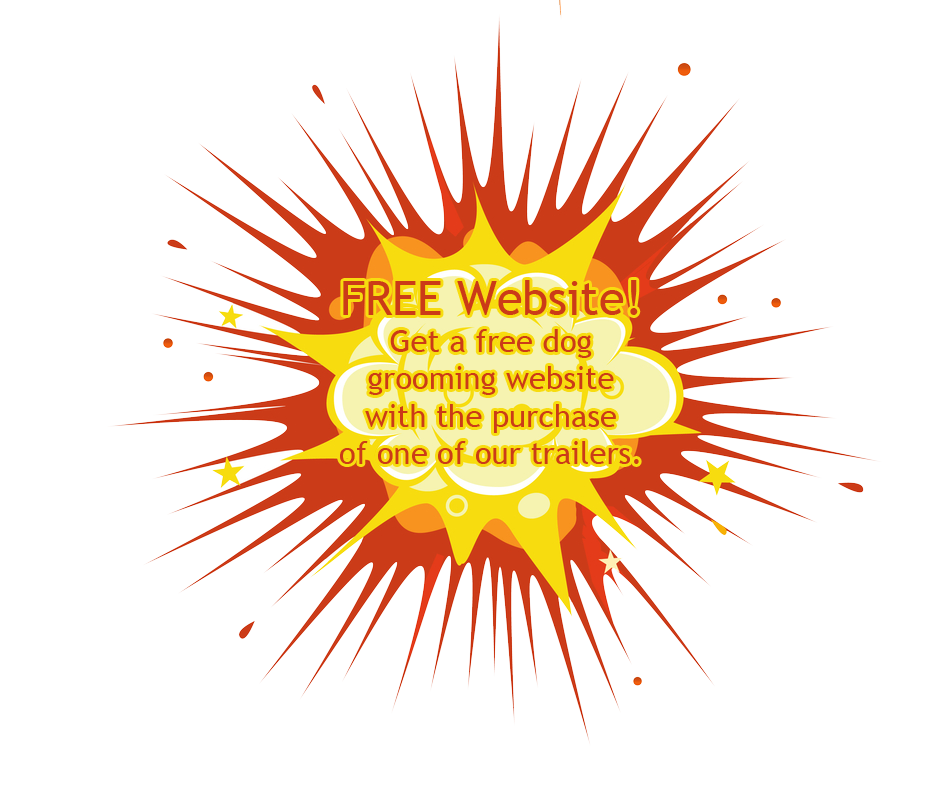 Overall Features:
On an overall scale, our mobile dog grooming trailers are constructed with quality materials everything from our Durable Trailer Frame, Water Resistant Flooring, Sturdy tires, Axel & Hitch, Screwless Aluminum Finish, Stunning Interior, Signature features, and so much more (check out our features page)
What makes different from Other Pet Grooming Trailers?
Durable & Safe Trailers:
We have a great relationship with a cargo trailer manufacturing company who is an expert in manufacturing the durable and safest trailers that are fit to run all terrains. The confidence on our trailer manufacturer and rapport developed over the years helps us to develop classy and outstanding, mobile pet grooming trailers.
Water Resistant Flooring:
To augment the water resistance ability of the trailer, we use Federal Government certified and approved treated ¾" wood flooring. This gives a flawless finishing and it is easy to clean and maintain.
Insulated Flooring:
Thermo cool insulation is provided between the roof and the bows of the roof. To avoid the possibility of leakage, it is again covered with rolled Galvalume. All these products are original trademark protected and stand guaranteed for the quality consistency. The insulated cooling system is essential to provide a comfortable condition for pets during winter and summer.
Screwless Aluminum Finish:
The screwless aluminum finish is engineered to give a perfect neat finishing for the trailer unit. The aluminum sheets are polished, crystal white finishing gives an elegant appeal. Hence, cleaning will be a hassle free experience. And a clean backdrop, you can put up your signage and make that special look, and show off your new business.
Fabrication Works:
All Tube, Z-Channel, C-Channel and Hat Post channels are using for the trailer fabrication framework. These iron channels are notable for their quality and durability. Solid work, professional frame welding, is engineered to give lasting, noiseless driving comfort.
The Interior:
The interior is designed with most of the modern features. You will have 19 – gallon hot water heater, 50 – gallon cool fresh water tank, 50 – gallon gray (waste) water tank, Fresh water filler inlet mounted on the exterior curbside wall, 110 V water pump, room temperature control unit, quick release spray hose, CO2 meter, Fire extinguisher, etc.
The new model 2016 trailer dimensions:
The trailers are engineered to keep a height of 6' 6" and a tail end length of 10" or 12". This is considered as an adequate dimension to create an interior grooming and service area. 8' feet is dedicated to designing the grooming the shop area and 4″ is designated for the service area. For custom made orders, you will have the option to customize the interior as per your requirements. To find out more about our features you can click here
What Are The Advantages Of Owning A Mobile Pet Grooming Trailer?
Affordable and Cost Effective
You cannot deny the fact that you want to buy a pet grooming trailer that is affordable & cost effective.
Take it a challenge from us, our trailers will cost you only quarter the cost of a conventional pet grooming van. Either you make more money or pass on the saving to your customers as a business goodwill. It is a win-win situation. In doing so, you can increase your customer base.
Meeting Breakdown Challenges:
Though the breakdown chances are very minimal, we have to prepare always for the worst.
DON'T WORRY DURING A BREAKDOWN
These are moving parts and may hit with problems. In the case of a breakdown, you can quickly hook up it with rental trailer head continue with your business activities. You never miss a business call.
No More Rented Shops
You don't have a real estate owner who keeps on knocking your door for rent charges.
YES, YOU WILL BE YOUR OWN BOSS
This will be indirect saving. You can take the trailer to customers door step to engage in your business activities. The indirect saving by different means will help you to make more profit in the business.
Your Pet Loves the Interior
Cool interior and comfortable arrangements will never alert your pet animal.
COOL INTERIOR AND COMFORTABLE ARRANGEMENTS
They will love to be quite an obedient. Your customer will be happy seeing their happy pets. You won't get surprised if you are able to get some extra money by way of tips.
Mobile Trailer Solutions has been offering pet grooming trailer services since 1970. It is a family business located in Knoxville, Tennessee, USA.
We started constructing mobile grooming trailers for over 7 years. But we have been building mobile shops for the last 20 years. With combined 40 years experience on different configurations suiting for the personal tastes, we are able to mould the interior of YOUR next grooming trailer, meeting your targeted expectations. It's our business, and we are confident of delivering our promise.
We utilize our experience with innovations to produce the best results that can create wonders for your business. Brilliant features complement each other inside and outside to provide an amazing look for your mobile pet trailer. Certified finest materials are used without compromising on quality & consistency.
Every model of our mobile pet trailers are unique in features. They are always designed to meet the individual requirements and priced affordably. The 2016 model trailer's price start's from only $ 10,999 which is heavily discounted to meet the customers finance flexibility. Convenient finance options are available if needed. (Subject to approval)
We are offering a FREE pet grooming website from Core Web Services, LLC for anyone who purchases a trailer from us.
They are also offering 2 months FREE of their Bronze maintenance fee, so a total value of $899 FREE let us help you get your mobile dog grooming business going today!
Being part of Core Web Services, LLC will be a wonderful experience. The company's insurmountable working experiences will be an added advantage to develop your pet grooming business. The program is being offered as a free courtesy service for customers who purchase a trailer from us Mobile Trailer Solutions!
If you would like to find out more about Core Web Services, LLC and their website packages then head on over to https://corewebservices.com