Mobile Grooming Trailer Features to look for!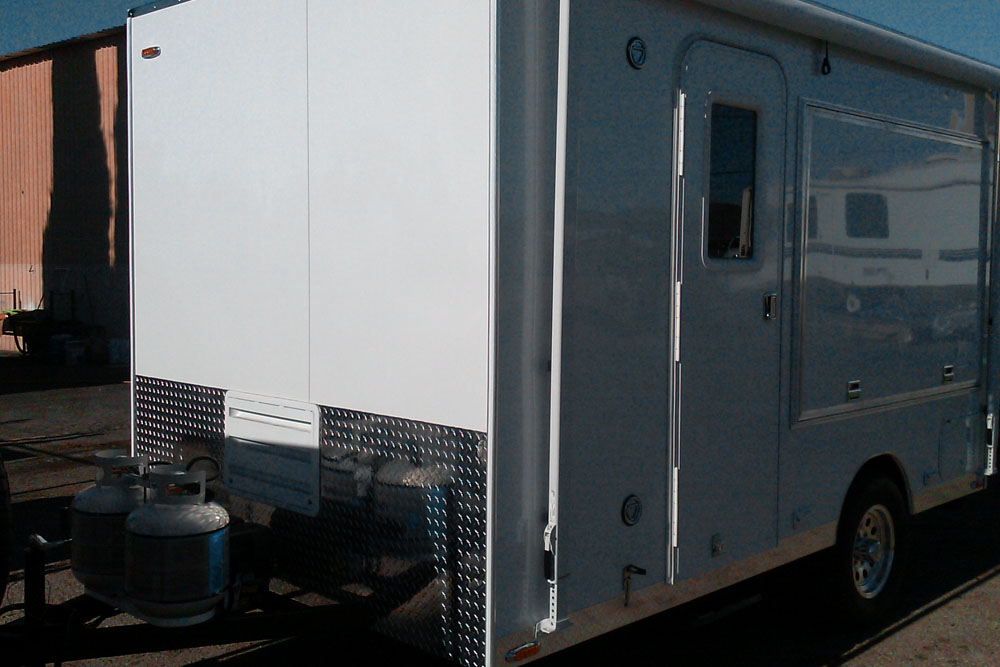 Dog grooming businesses account for a huge portion of the billion-dollar pet industry in the United States. If you are seriously considering starting or expanding your own pet grooming business, here are the different features you should look for when buying a mobile grooming trailer:
Sleek Aluminum Finish
A dog grooming trailer needs to look clean and sleek. To achieve this, it needs a good aluminum finish. In cars, having an aluminum finish is always a good thing since aluminum allows easy painting or sticking with large streamer signage. And if you want your business logo plastered outside the trailer walls, it's best to look for mobile trailers with aluminum finish.
Heavy-duty Trailer Walls
Along with having sleek aluminum wall finish, the trailer's wall itself should be sturdy and weather resistant. The trailer walls will need to withstand different kinds of weather and outside forces. They should be made of heavy duty materials that will protect the animals, personnel, and equipment inside the trailer in case of collisions.
Water Storage and Catchment Fixtures
You will need water to bathe and clean your customer's pets. So it's important that you should choose a dog grooming trailer with built in clean water storage and dirty water catchment facilities. Usually, this equipment is placed at the back of the trailer. A separate door at the rear end of the trailer allows you to fill or empty the water storage tanks at your convenience.
Customizable Cabinets and Other Storage Spaces
It's important to choose a dog grooming trailer that has a lot of storage cabinets or spaces. This allows you to store dog shampoos, dog hair combs, pet medicine, towels, nail clippers and hair dryers in these cabinets when they are not in use. Most trailer providers are aware that business owners will need to make use of every space inside the trailer. So they are open to any of your suggestions in order to make your own grooming trailer fit your needs.
Bath tub for pets
Any pet owner will agree that bathing pets in a bathtub is easier and more convenient for both parties involved. Choose a dog grooming trailer with a built-in bath tub and your pet groomer will thank you for it. This also prevents further spillage on the trailer floor.
Having a bath tub is also a surefire way to guarantee your business' popularity in your area since not every mobile pet grooming business has bath tubs. Be sure to make use of this feature to increase your customer leads.
Safety Fixtures
You should look for dog grooming trailers that have built-in safety equipment like fire extinguishers, carbon monoxide sensors, thermostats, exhaust fans and wheel brakes. This will give you peace of mind towards your investment, personnel and pets.
Some county and municipal business licensing offices will also require these safety fixtures to be present before approving your business license. So it's better to ask the pet grooming trailer firm if they have this equipment.
Water-Resistant Floor Covers and Equipment
Grooming pets will involve cutting or trimming nails and fur, combing hair, dressing up, and even bathing them. Some pets may not even be used to water or to new people that they will be excited or worried during the entire procedure. And when this occurs, spills and water splashing everywhere can occur. So to prevent physical and electrical damage, it is best to choose trailers that have water resistant floor covering. Equipment inside the dog grooming trailer can also be covered in plastic or tied with short cords to prevent them from being easily knocked over into wet floors.
Pet grooming firms like ours petgroomingtrailers.com offer specialized dog grooming trailer customizations to ensure arrangements to prevent injuries and sudden electrocution.
Built-in Windows
It's important for pets to feel comfortable with their surroundings when they are being groomed. And placing a window inside your dog grooming trailer will give them this sense of normalcy. The pets can look out the window and see the familiar landscape of their neighborhoods. Pet owners can peer through the window to help calm their pets. Open windows also provide natural air exchange. You and the pets will not be breathing recycled air inside the trailer.
Generator
All the equipment and tools inside your dog grooming trailer should be powered by an outside generator. You should not rely on electricity from your customer's home as this can likely lead to poor customer service. By having your own trailer generator, you will have your own power source and guarantee your customers of non-stop service.
Nowadays, generators for mobile dog grooming trailers are strategically placed before the trailer itself and are enclosed in sturdy aluminum walls too. This protects the generator from outside damage and also adds to the clean appearance of the trailer.
These are the top features that you should look for when purchasing a mobile dog grooming trailer. Some trailer firms may consider other fixtures as add-ons while others are part of the entire trailer cost. Be sure to ask the right questions prior to committing to anything. Most firms will gladly work with your requests to ensure that you will have the best dog grooming trailer in your area.
Mobile Trailer Solutions is one of them Companies Check out our Dog Grooming Trailer features today and then contact us. Let us help you get into the mobile Dog grooming business.