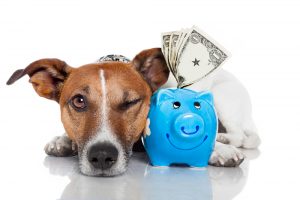 There are many ways to save money and still get everything you need to start a successful mobile dog grooming business with a safe, reliable, quality trailer.
First, always check prices for dog grooming tools, tables, and generators online. Some builders will raise the price on these items and then overcharge for installation.
Next, avoid unnecessary add-ons and upgrades.
Things such as outside wash stations and city water hook-ups are very rarely needed. If the need arises for an outdoor bath, a long hose hooked to the inside of the trailer would be sufficient.
Vacuums mounted in the service area sounds like a good idea, but the installation can cost you hundreds of dollars and is ultimately unnecessary and inconvenient. When the vacuum waste receptacle fills up (or you accidentally vacuum something you shouldn't) you'll lose time exiting the dog grooming trailer to go to the service area and empty the vacuum. Not only will this lost time cut into your potential profits, but the dog shouldn't be left alone while you service the vacuum. Save time and money and keep everything accessible from inside the trailer.
Stay away from large windows. Large windows or units with a lot of windows are not only more expensive, they allow the dog to become distracted by scenery and events – squirrels! – outside the trailer. Keep things simple and easier for you by choosing smaller windows.
When choosing a generator, shop around and choose the right wattage for your needs. Educate yourself, check prices, and compare different brands so you can be sure you're getting the one that will best fit how you use your trailer. Most generators are simple to install, so you can save money by installing it yourself.
If you do your research, you can save thousands of dollars and still get a quality dog grooming trailer that will last for years.